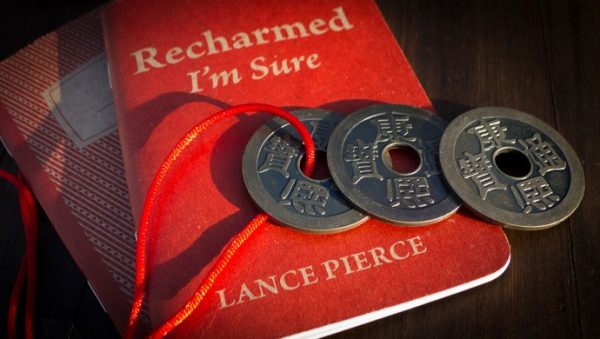 In stock
Recharmed, I'm Sure! by Lance pierce
$1.50
https://www.youtube.com/watch?v=HgR4f_4TpVE The Charming Chinese Challenge by Troy Hooser is a fine effect…
https://www.youtube.com/watch?v=HgR4f_4TpVE
The Charming Chinese Challenge by Troy Hooser is a fine effect that was destined to become very popular— a modern classic, even. Troy's routine accomplished the two things any magician would want his routine to…it stimulated the thinking of magicians everywhere while delighting audiences around the world. If you've not yet studied Troy's excellent routine, we recommend you check it out. Now we have another step in the progression of Troy's concept: Recharmed, I'm Sure, a new handling of the plot that's streamlined and honed over thousands of audience performances.
Effect:
The performers shows three coins and a length of string. All can be freely examined by the audience.
Threading the coins on the string, they're clearly situated there, and yet one coin "dances" off the string and onto a spectator's hand.
The two remaining coins are clearly seen on the string. Again, one coin simply falls off onto the first coin.
The performer holds the last coin at his extreme fingertips. The coin is unequivocally on the center of the string and yet, the performer visibly pulls them apart. Just as astonishingly, however, he causes the string to visibly melt right back on the coin and immediately has the spectator pull on the string to verify that it's really on there. It is. No sooner is this done than the performer visibly pulls the string through the coin again— and there is no doubt about this, the string is in one hand and the coin is in the other.
Just as casually, the string visibly melts back on. Again, the spectator pulls on the string, clearly showing at the coin is on it. Once more, the coin melts through the string into the performer's hand, but suddenly it's gone, and the errant coin is finally found with the other two, in plain view.